Well it was bound to happen with a missus that works in a Harley shop :)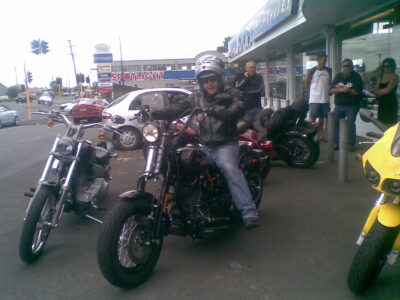 To be honest I have never ridden a Harley before, so this was a bit of a "moment" for me
The Crossbones is a retro throw back, harkening to era long gone.
Point of interest for me were:
First gear is VERY VERY low .. changing down in to first is just a no no.
The rear suspension was setup for a fat American or some such .. rock hard
It is WAY too low to the ground, the salesman said "watch the floor boards" but the ground is so close
It was good fun listening to the over run un deceleration, that is just the most awesome sound.
Chomping through the gears at low revs (think: Tractor) is strangely addictive. It is not something I would buy, but it definately attracted me to investigate the brand more. The sales guy knew I would complain about the ground clearance, but has a Lightening ?!? that he think I should ride.