On Easter weekend 2015 we (Paul and Helen) motorcycled to Wellington, mainly to visit Helen's daughter Sarah, and sister (plus family including new born baby) Tracey.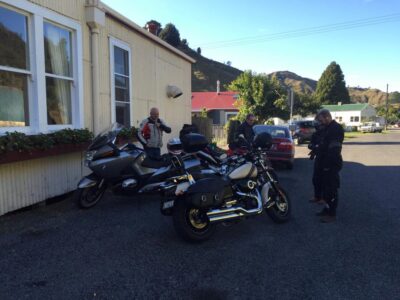 We did manage to fit in one tourist adventure; we went to Wet Workshop, where we took a tour (no photography allowed sorry).
Then on Sunday we headed to Whangamomona via Stratford, where we met with Warren and Robyn, and Richard on their bikes stayed the night at the AWESOME hotel, then rode back to Hamilton together.
The other interesting thing is I bought an action camera this week. I've been thinking about a gopro for a while, but at $540 + accessories and attachments, it is just too much!
So on to trademe I went to see if I could find a secondhand one. Instead I found a new SJCAM SJ4000. I did a bunch of research, and watched a heap of comparison videos on youtube etc before deciding that at $180 this is the camera I should buy!
The result is great !!
I spent some time with Adobe Premiere Pro as well piecing together a small 5 second intro that I can use with my biking videos.
Whatcha think ?
So of course I had play around with different places to mount the camera on the bike. I totally got in touch with my inner movie director :)
So here is the result, a 10 minute long video of our Easter weekend motorcycling adventure.
Enjoy !!!
The Feature Film
Music by the excellent Shihad. Home again, My Mind's Sedate, Alive ( Shihad.com )