So just like in The Fishtank Rebuild Project, and in Aquariums are the best … I like fish.
This is the story of how I ended up with a monster under the house.
Well, lets just start with a picture of the monster !!!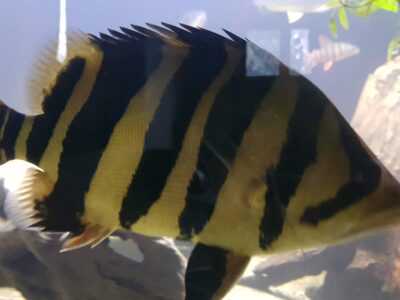 Let's begin - The idea hatches
So Helen started employment this year, so her clinic room got turned into a "Helen hobby" room.
I think she has settled on the name "The loft".
She plays piano, meditates, does some yoga, etc etc.
Of course I want a room a too 😂
So Helen and I hatch a plan to turn a lean-to, ex-carport, half finished, under the house room, into a Den.
It started as a room with two walls (not four), a dirt floor, and an iron roof.
The hardwork over 3 months
So 3 months of hard work !!! Concreting, building, gibbing; all stuff I have never done before.
Nor has Helen!!
We learnt how to mix and pour concrete, drive diggers, build internal walls, hang gib, do electrical work, install a door.
Like … crazy man! 🤪
The initial Goal
So to start with I wanted somewhere I could play guitar, loudly, and get myself a monster aquarium.
I planned to build an aquarium from scratch, maybe a plywood aquarium, but there was a tonne of research!
During my research a 1400L glass aquarium came up for sale, for less cost than the cost of materials!
So of course I bought it.
Fortunatley Helen and I had finished building the Den when this tank came up for sale.
The Move
Moving a 2400mm x 1000mm x 600mm size fish tank is quite difficult!
So I rope in help from Matt again, hire a truck, and head to Auckland to pick up this monster tank.
A few guys turn up in Hamilton (which I don't know!) to help move the thing into place. great!!!!
It's heavy !! like really heavy ! .. 260kgs of glass !! that heavy !
Status update
the room has been running for a while, as has the tank.
I've had some deaths 😢 (A Delhezi, and an Arowana .. my absolute favourite fish in the hobby 😞 😭 )
I've had some troubles with filtering. The tank came with a sump that wasn't quite good enough. I now have a Fluval FX6 working along side the sump.
I'm starting to play with other ideas to make the room cool.
One idea (because I love gadgets and tech) is to install some wifi smart bulb thingees for some cool lighting, that feels very "Paul", and a bit nerdy 🤣
Monster Tank video
Here's a video for you video watching pleasure !! (My Arowana, that died yesterday is in this video 🥺 )
Monster Tank video Update
And here's a video in October 2019 just before I had to sell it because I left Helen (and therefore the house / Den)
Picture Gallery
Here's some pics for you enjoy