Well Team Fortress 2 seems to have taken pride of place in the gaming time for me. It really is huge fun.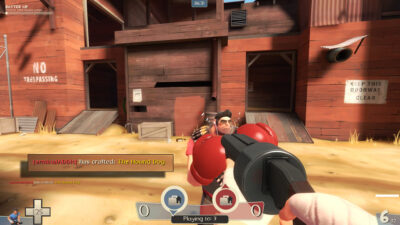 Me wearing: Hound Dog, Ear buds, Killing Gloves of Boxing (KGBs)
after countless hours of collecting items (a lot I want to keep) so that I can craft stuff, I finally did my first hat craft today.
It cost me 4 refined metal, and 1 heavy class token.
The result: A Hound Dog
Screenshot provided :) (I couldn't resist)
I've now got:
Professional's Panama (sniper)
Tippler's Tricorne (demoman)
Parasite Hat (thanks valve for the free game)
Ghastly Gibus (just like everybody else)
Hound Dog (Heavy)
The Hound dog is my first "crafted" hat, all other have been "found".
I'd really like a hat for my Pyro and my Soldier!!!