Now this is a story all about how my life got tipped turned upside down . Nah not really, it more of a "don't assume you get things right, don't even assume others get things right, don't even assume anything""
So this week I figured it's about time my new company ( www.netenterprises.co.nz"} ) .. which actually at this stage means me :) , should get out on the sales trail; I need to drum up some future work. I've got a bit going on at the moment, and have some fairly solid future prospects, but I really want to push some growth. I haven't taken any drawings yet (taken money out), instead hoping to burn through some money to encourage growth.
Business cards .. that's what I need.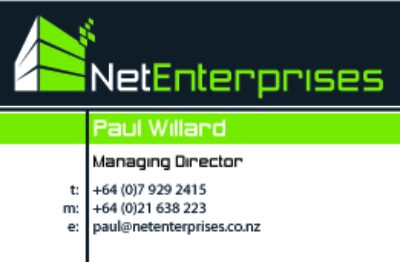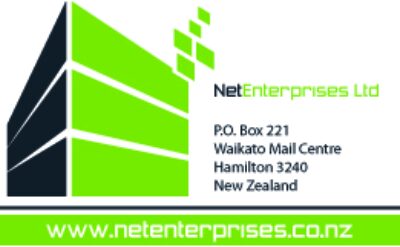 So I bust out the old adobe products and give the old design muscle a bit of a work out. Not too hard really, I've got a fairly solid idea of what I want; I have documented all the CMYK colours that I have used so far, and have a sweet vector version of my "building" - so really this is just going to be a shuffle of content to fit on a business card.
Anyway, you can see the result, I'm fairly happy so off to the printers I send them.
Michael Emett and friends at nz.printing.com are more than happy to help me out. They did my cards for netcore.co.nz and I was really happy with those, so it wasn't even a choice for me, of course I was going to use nz.printing.com. So a few emails back and forth, and a payment, and I'm set (can you tell where this story is going?)
Yep .. you guessed it !!!@@#$!
I proof read that bad boy a million times. I printed it out and sat the thing on my kitchen table for others to read. I read each and every word individually to ensure correctness …
Just so you know, my P.O. Box number is 221. If you are the New Zealand Army and get mail addressed to me (the NZ Army P.O. Box is 212) can you please forward it to me.
So 1000 cards will probably go in the fire, along with the money I spent to get them .. oh well it's only money :(
I might wait until next month to get replacements; give myself a bit of time to forget the pain :)