Bill Hohepa and the team at Keppler's gave us an invite to come along to drive Whangamõmona road.
The brief was simple (none of us having done that road before), it'll be about 5 hours, bring your own lunch.
Boy was that wrong! 😅
So, I love Whangamõmona. I love the road, I love the hotel. I ridden State Highway 43 to Whangamõmona on every motorcycle I've owned.
This time it was the truck's turn!
And this time I was doing Whangamõmona road, which IS NOT State Highway 43!
I did some research before I left of course.
Whangamõmona road is described as a difficult track, prone to slips, and dangerous obstacles many metres above a river, with steep drop offs.
Great !
I turned up with all my rescue gear (snatch straps, max tracks, shackles, air compressor, etc etc).
Some of the guys turned up wearing Vans shoes. 🙃
Being unprepared is an understatement!
I don't blame the guys, they had been told it would be a nice drive in the bush for lunch.
Most had road tyres on; heck we even had a 2 wheel drive Cannon turn up.
Anyway, we set off, got stuck, rescued each other, then got stuck again .. .repeat. 😬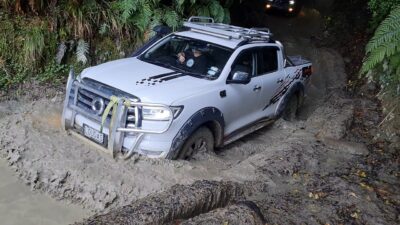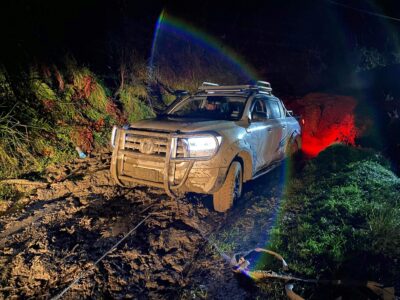 And yep, a couple of the bog holes we had to get winched through (yes, I'm thinking about a winch again 😜).
The week since, I've lifted the truck.
I put Dobi springs in the front, and lifting blocks in the back.

Springs are the only legal way to change ride height in NZ. Spring spacers are ILLEGAL!
Blocks are the only legal way to change ride height with leaf springs in NZ.
I had a great time, albeit pretty exhausted at the end.
I didn't suffer any significant damage, but all other trucks did. 😧
Yes I'd do it again 🤪
Big baller, Shot caller, Greatwaller 😘